How Will You Resolve Your
Career
in 2023?
2023 is here, it's time to pursue your New Year's resolutions, and January-February is the right time to make a career change into council work. As CouncilJobs' seasonal data on job search suggests, January-February is the most common period where people make the confident decision to jump ship at their workplaces. In the beginning months of the year, employers launch new strategies, projects, and team building initiatives to target the new year's objectives. How do you meet your need for flexibility and avoid uncertain job security? Council provides you with flexibility, job security, unique skill application, and a healthy work-life balance, so now is the time to make a career switch. Last year saw record job vacancies advertised in Australia and New Zealand Councils as councils struggled to catch up from a 'perfect storm' of demand for talent. The start of the year is your opportunity to merge your lifestyle with your career and CouncilJobs is here to support you. Through CouncilJobs you can find an enormous range of council employment opportunities, where flexible work arrangements and extensive employment benefits are prioritised.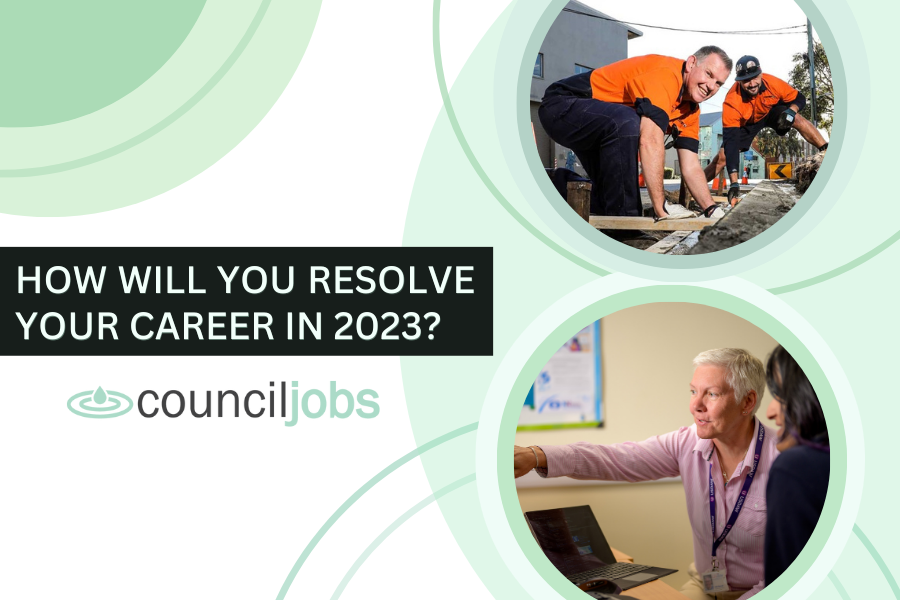 Irrespective of whether you are fully committed to a career change or not, now is the time to reflect and evaluate what gives you purpose. Why? Because:
You lack passion for your work or growing distant from your passions outside of work
A sign that you may need to make significant change in your work environment is a loss of passion. People often seek passion through their place of work particularly younger employees, although it's important to acknowledge that many people's passions may originate from external activities as well whether it be general hobbies or simply time with your family. Consequently, a loss of routine and flexibility through your work can cause a disconnect from the activities which once brought you purpose.
You're becoming disinterested in the private/corporate sector culture, or you may think your workplace is unhealthy or on the decline
As you reflect on your experience with your company or past companies, you may realise some unattractive parallels between them, this may be a sign that you may have moral dissimilarities with your current sector and it's time for a change. Activity based work settings through council may be an appealing opportunity for you to join a community-centred work environment with colleagues who have similar cultural perspectives to yourself.
Your skills are not being appropriately utilised, you don't feel like you're growing, or you believe you've fulfilled your role to its extent
Of course, when first entering a career, you want to stay competitive and showcase your skills when given the opportunity, however as time goes on, it may come to show that the skills you have to offer are being overlooked or may not be appreciated to their fullest extent. If you believe that your current career may be stunting your skills and growth, council projects provide employees with opportunities to showcase their individual skills which forefront community initiatives.
How will a switch to council in 2023 resolve your career?
Purpose, balance, and job security are the three fundamental factors that make working for council a perfect career choice to resolve your career in 2023. There is an extensive range of unique benefits for council employees which all contribute towards those three fundamental factors regardless of whether you're early in your career path or moving close to your retirement. Those benefits consist of:
Job Variety, Learning, and Development
Reward yourself with the opportunity to transfer your skills into local initiatives and work with colleagues and stakeholders from different professional backgrounds. Councils everywhere are in the midst of an infrastructure boom and key skills are widely recognised to be in critical short supply, such as Engineering, Project Management, Planning, Building and Resources Management. Added to this, the local pressures of climate change mean that Councils have been pressured by their communities to step up their efforts to mitigate Climate Change locally with new infrastructure and innovative programmes all adding significantly to the skills shortage for Environment leaders. As a result, you'll be able to develop your knowledge and skills in different fields and gain access to free career support programs, and even study assistance. Given the prospect of applying your unique skills, council work will provide you with purpose as you develop and improve your local community. As a local change-maker, you can be a catalyst for widespread innovation and fulfill your career resolutions.
Work Flexibility and Well-Being Initiatives
One of the most prominent benefits of working for council is the flexible working arrangements promoted by a majority of councils. These include remote working, flexi-time hours, job sharing, rostered days off (RDO), compressed work weeks, time off in lieu, phased retirement, and family/carer leave. A survey conducted by CouncilJobs in 2019 found that most job seekers viewed workplace flexibility as essential priorities when looking for a new position. Moreover, 63% of respondents believed their expectations for workplace flexibility would further increase in their next 5 years. Numerous councils also support employees with well-being initiatives such as free access to a network of public facilities. These support networks include gyms, pools, sports clubs, and libraries, along with professional counselling and health improvement programs. A combination of both workplace flexibility and health-driven support programs will provide you with a valuable work-life balance that can resolve your career in 2023.
Job Security and Change-Making from the Ground Up
Working for council projects offers an opportunity to influence physical changes and contribute to the overall growth of your community and yourself. Regardless of the project size or budget, the expectation and responsibility for community improvement remains the central long-term objective across all employees in all councils. The great work environment, job security & having the desire to contribute constructively to one's community has led to most councils having an ageing workforce issue. In recent years this has transitioned to mass retirements as workers reach critical age or service milestones that encourage thoughts of retirement, which the pandemic only exacerbated. Nonetheless, understanding that council work is a long-term project means job security is of critical importance for councils and can resolve your career in 2023.
2023 is the year for a career change into council where your work can meet your lifestyle's needs. Through CouncilJobs, subscribe to free job alerts on a broad selection of categories where employers are in need for your unique skills and passions.