The CouncilJobs targeting advantage for council recruitment...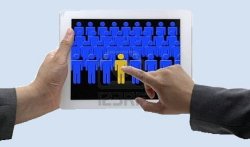 The name of the game is to
get your ads seen by the people who matter
- the people with skills and experience you need, interested in working for a council and interested in working and/or living your area.
That means getting your ads
noticed
. The best way to do that is to send them direct to prospective candidate. Headhunt them. Let your targets know about your jobs.
Matching your ad to a web-based database of active candidates actively looking for a new job and emailing your ads straight to them is the ideal.
Only CouncilJobs
has such a database with candidate/job-matching capability - and instant job flash and daily alert and weekly summary to get your message out quickly.
For online ads, making them
easy to find
is also paramount.
That's easy to say but
few do it
. Jobs grouped by category [skills or work type] and listed alphabetically are much quicker and easier to search and scan. No wasted time looking through a sea of unrelated job titles. That means more job seekers you are targeting will see your ad. Categoriy searches too to drill down to specifics.No print media can do this and no other website does this for council ads.
The easier your job ads are to find, the more job seekers will find them.
Advertise where people look for work with councils, well know industry publications.
Target people actively looking for a job. These are the people who ask to be emailed
information on jobs meeting their search criteria as soon as the ads are published. That
means you need a job site that provides job seekers with such a facility.
Target people looking for the kind of job you are advertising. That means listing jobs
where job seekers can subscribe to job alert emails for new ads as they are posted and
where they can easily search for them on the job site. Ads on CouncilJobs can be found
by Popular Searches which group similar job categories together AND by searches for
specific job categories individually.
List ads with job titles in their logical, expected order to make them easier to find.
Customise your ads to make them stand out where pssible. With CouncilJobs you can
display them in a Premium Position on the Home Page so they can't be missed, highlight
them as Hot Jobs to stand out in all listings, display them as PDFs for colourful or
corporate presentation and/or as JPGs to retain an extensive graphic or colourful
presentation with a much smaller file size.
Having attracted the people you are targeting, you need the ad to be attractive to potential applicants. That means making the offer [money] right, conditions appealing and local lifestyle [where appropriate] attractive. Why not visit the
Ads Archive
to see how others have done this and maybe help generate ideas ideas?